RANGE RIDER
The two motor vehicles that I built
During 1987, while we were living in Durban, I embarked on a project aimed at developing and producing a motor vehicle that would be immune to rust. I called the vehicle the Range Rider.
The vehicle consists of a stainless steel body frame and chassis, fibreglass body panels, and aluminium beading. It is truly rustproof.
I built two prototypes. Each vehicle passed the roadworthy tests without any problems, was duly financed by Wesbank, and comprehensively insured.
I developed the vehicle in the days of the Old South Africa and at that time it became clear that there is going to be a new political dispensation, a black government, and new dispensation as regards law and order and, and more specifically, labour law. I did some intense soul searching and finally realised that I would never be able to come to terms with being held to ransom by my labour force. At the time I had three businesses, two of which that were very dependant on labour.
Some time thereafter we decided to dispose of our businesses.
I may mention that in the Old South Africa there were substantial incentives for relocating to decentralised areas such as Isithebe on the Natal north coast and I was on the verge of relocating my factory to Isithebe. The labour at Isithebe was cheap, readily available, and the people particularly docile. When Mandela was released and the New South Africa started kicking in Isithebe was the first to go up in flames, literary, not metaphorically speaking. As regards the motor industry, Mercedes Benz suffered substantial damages when workers downed tools, illegally occupied the factory, and ruined expensive upholstery material by using it as bedding. When I shelved the Range Ride project I sacrificed more than R200 000, but when I saw the news footage of Isithebe burning, and the shambles at the Mercedes Benz factory, I felt particularly smug for having made the decision not to continue with the Range Rider project.
First prototype of the Range Rider
Click on image for a larger version.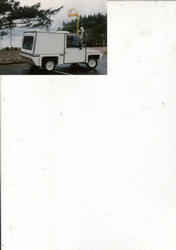 Second prototype of the Range Rider
Click on the image for a larger version.